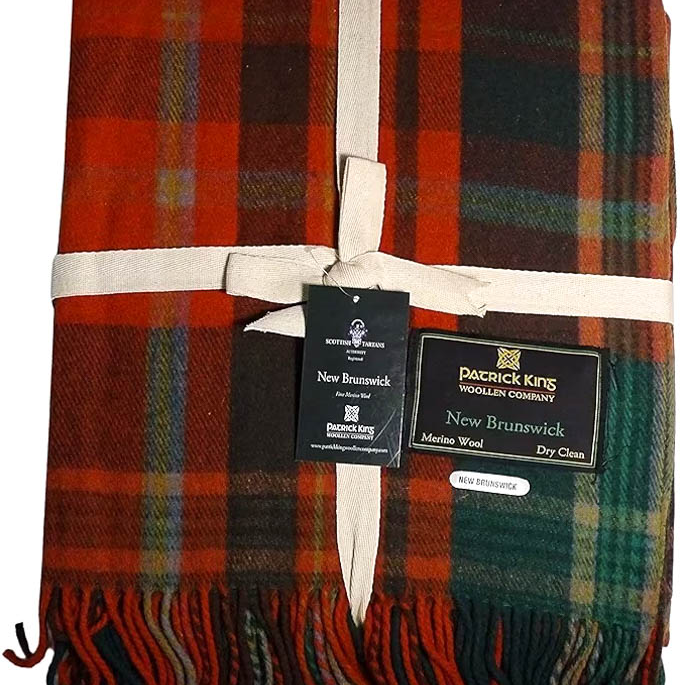 Patrick King New Brunswick Deluxe Wool Blanket
The Patrick King traditional clan and custom tartan throws are woven using a shutterless loom for the Patrick King Highland Collection, producing high-quality wool and vibrant colours. Unmatched in quality and durability, Patrick King Woollen Company blankets are natural, breathable and sustainable.

These Merino Wool blankets are perfect for your gifts, campers, cottagers and everyone who appreciates the warmth, comfort and style of woollen products at home.

New Brunswick
The Atlantic seaboard province acquired its official tartan in 1959. Designed by Loomcrofters Museum in Gagetown, the colours are forest green for lumbering; meadow green for agriculture; blue for the coastal and inland waters and an interweaving of gold, the symbol of the province's potential wealth.
The red blocks signify the loyalty and devotion of the early loyalist settlers and the New Brunswick Regiment. The brown band possibly commemorates the 'beaver' from Lord Beaverbrook, the press baron who commissioned the first weaving—named in honour of King George III, who was from the House of Brunswick. Although not born there, he published his first newspaper in the Province at 13 and always regarded it as home.
Low stock - 2 items left

Inventory on the way
---